Product coding: Coca-Cola European Partners' secret recipe
The Coca-Cola European Partners (CCEP) factory in Marseille produces around 50 million cases of drinks annually. At this pace, nothing can be left to chance. To guarantee the quality of every finished item, the factory's marking process must keep up with manufacturing—a challenge that Markem-Imaje has met with a customized solution.
A unique production line
The CCEP Marseille aluminum can production line is organized into two lanes that together deliver up to 25 cans per second—an exceptionally fast speed in Europe.

Installed at a height of around 10 meters off the ground, the production line is subjected to temperatures of up to 50°C in summer. That's double the heat traditional marking solutions can bear.

In addition, the production process generates aluminum dust, which eventually harms the machines unless an optimal extraction system is in place.

In these conditions, the bottom of each can must be marked with two 18-character lines. This must be done without fail… and without compromising accuracy or quality. No ordinary system can handle the task.


Reliable, high-performance laser coders
After consulting with the client, Markem-Imaje replaced the four existing inkjet printers at the aluminum can production line with two SmartLase F500 fiber laser coders. Facing upwards, the laser heads mark the bottom of the cans at a rate of 0.004 seconds per product. The setup includes cooling units and aluminum dust extractors to protect the coders.

This new coding system compliments the Markem-Imaje solutions already installed on CCEP's PET and glass production lines in Marseille, and improves several aspects of site performance:
Environmental performance. Product coding no longer produces volatile organic compounds (VOCs).
Quality and reliability. Coding is both permanent and aesthetic.
Profitability. Laser technology enables savings on consumables, since the filters are changed only twice a year and the pre-filters every six or seven weeks.
Productivity. The SmartLase F500 fiber laser coder requires minimal maintenance and limits costly production stoppages.
A cost-effective solution
The very intense, high-speed beam of fiber laser coding technology is suitable for all kinds of manufacturing plants that require markings on metal packaging.

In addition, Markem-Imaje's technical and commercial approach helps customers optimize their OPEX. Three steps are involved:
A preliminary assessment of the manufacturing environment (the factory building, machine configuration, etc.) to design a fully customized installation.
A practical demonstration of the coders' speed, marking quality and service levels, with samples.
A turnkey solution including material, accessories, the laser guarding, filters, pre-filters, preventative and curative maintenance, and training.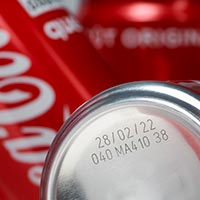 Coca-Cola European Partners
See the SmartLase F500 fiber laser coders at work at the Coca-Cola European Partners factory in Marseille:
You can read the case study, and see the video documentary.
If you have any questions or comments, please get in touch!